C2 Proficiency - Word Formation
Certificate of Proficiency in English (CPE)
The third part of the Reading and Use of English paper in the C2 Proficiency Examination is word formation where a student needs to uses a root such as 'friend' and creates an appropriate word (friendly, befriend, friendship) to fill the gap in a text.
Example Question
1. Why don't you demand a bigger say in the running of the company? Your _____________ acceptance of every decision is harming the health of the business.
question
Word Formation Worksheet 1 - Answer Sheet
Word Formation Worksheet 2 - Answer Sheet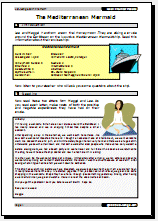 Come and join esl-lounge Premium.
High quality PDF lesson plans.
Full teacher notes - zero preparation time.
mp3 listening materials.
Full color flashcards for grammar/vocabulary teaching.
Thousands of content members from around the world.
Lesson plans in both British and American English.
Premium Home Page | Free Samples | Why Join | FAQ | Sign Up!
Take The Tour
★ Special Coupon Discount★
$8 off Lifetime Membership. Enter coupon code 8LIFE at registration.
(valid for this month)
Word Formation Worksheet 3 - Answer Sheet
Word Formation Worksheet 4 - Answer Sheet
Word Formation Worksheet 5 - Answer Sheet
Word Formation Worksheet 6 - Answer Sheet
Word Formation Worksheet 7 - Answer Sheet
Word Formation Worksheet 8 - Answer Sheet
Word Formation Worksheet 9 - Answer Sheet
Word Formation Worksheet 10 - Answer Sheet
Word Formation Worksheet 11 - Answer Sheet
Word Formation Worksheet 12 - Answer Sheet
Word Formation Worksheet 13 - Answer Sheet
Word Formation Worksheet 14 - Answer Sheet
Word Formation Worksheet 15 - Answer Sheet