FAQ - Frequently Asked Questions
It's only natural you'll have questions before wanting to sign up to esl-lounge.com Premium. Below, we have tried to anticipate as many of your questions as possible. Just click on any question and you will be taken to the answer. If there is still something else you would like to know, just contact us. We will get back to you very quickly.
Deciding To Join
How To Join
The Lesson Plans
Using The Premium Lessons
Other Questions
Deciding To Join
1. Why should I join the Premium site?
Well, there are several reasons so we suggest you look at our "Why Join?" page for you to see why signing up for a Premium subscription makes sense.
We have been providing ESL materials to thousands of teachers since 2001. We are a site that has earned the trust of the ESL community through hard work and dedication to the communicative teaching of English. If you would like to know more about us, read our "About Us" page.
The lesson plans on the Premium site are second to none and have earned praise from all quarters of the ESL world. Read our testimonials page to see what our current members think.
2. Can I see examples of the handouts on offer before I sign up?
Of course you can. We would never expect you to sign up without first seeing what was on offer. We have set up a page of free samples so you can see the high quality of handouts that is on offer for our Premium members. Access the free samples page here.
If you want to see in black and white our record of adding new materials, simply go and check out our new materials page.
How To Join
3. How can I join the Premium site?
Simply go to our Sign Up page, fill out the form you find there and that's it! Nothing could be simpler. You will gain instant access to the excellent handouts on the Premium site once your payment goes through.
We offer two main methods of payment, either using PayPal or 2Checkout, which securely processes all credit card payments.
We also offer bank transfer payment and payment by check, but only for Lifetime and School Memberships. If you want to pay using this method, get in touch with us and we'll let you know what you need to know.
We have also put together a Tour to show you what is on offer at esl-lounge Premium.
4. How much does membership cost?
We have five levels of membership, one of which includes the possibility of purchasing the eBook.
This compares very favorably with membership prices at comparable sites, which offer six month memberships for at least $10 more. Our Platinum Membership works out at about 12 cents a day!
To read in more detail about which membership is best for you, see our Which Membership page.
* The eBook is a collection of all the Premium lessons in one place, in PDF format. The eBook can only be purchased by those who have already registered for the Lifetime Membership. You will only get ONE edition of the eBook. As with print books, you will not be eligible to get future editions free.
5. How do I cancel my membership?
The Bronze memberships auto-renew after six months. If you paid with PayPal, you can cancel this by logging into your PayPal account. If you paid using our credit card processors, 2Checkout, get in touch with us at the site to cancel this automatic membership renewal.
The Lesson Plans
6. Who made the lesson plans on esl-lounge Premium?
These lesson plans have been written by teachers, for teachers. The creators of the lesson plans here have been in the ESL classroom for a minimum of ten years. The site owner, Neil Coghlan, has taught English in several countries over a period of two decades. For more information about the people behind the site, read our About Us page.
7. What types of lesson plans are included on the Premium site?
All of the language skills are included in the different categories of lesson plans: grammar, vocabulary, listening, speaking, reading, writing, role plays and general theme-based lessons. Browse through our lesson plan pages yourself and you will see the wealth of quality and variation on offer. We also have authentic listening materials and some original design flashcards. There are also board games and board game templates.
Alongside the 'general' lesson plans, we also have sections specifically dedicated to Business students and also Young Learners.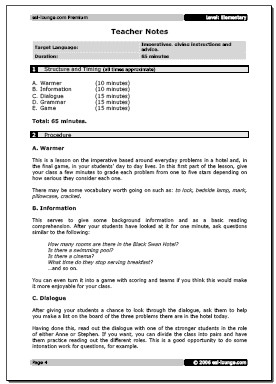 8. Will I become a better teacher by signing up to esl-lounge Premium?
Every lesson plan includes a comprehensive set of Teacher Notes that goes far beyond merely listing the answers you'll require. Tips are given throughout these notes concerning how to deal with stronger or weaker students, likely grammar problems, homework and expansion ideas, work on pronunciation and more. We aim to be a true teacher companion in the ESL classroom.
Our testimonials page will also demonstrate how our past and present members have appreciated the difference the Premium site has made to their teaching. These comments come from e-mails we've been sent in more than half a decade that esl-lounge Premium has been operating.
Finally, on the Premium site itself, you will find resources allowing you to better make use of both the listening and flashcard resources on the site.
9. What variation of English are the Premium lessons written in?
Uniquely among ESL sites on the internet, we will offer the opportunity for teachers around the world to download handouts employing both American and British English. We won't make that selection for you - it's your choice. We understand that these two varieties of English are preferred in different parts of the world so have selected to offer both variations. That way, you get the best materials for your own teaching environment.
10. How can I find the lesson plans I need on the Premium site?
There are three ways you can search for the lesson plans you want:
Use our search page. Here you can search by keyword or by category such as age group, lesson type, level, etc. Go to our lesson plan search page.
All our lesson plans have been tagged, rather like a blog post might be tagged to tell you what it's about. There are language tags (e.g. Present Perfect and Questions) and theme tags (e.g. Shopping and Vacations).
We also have a grammar curriculum page, where you can find lists of lesson plans divided into blocks according to their grammatical theme. We don't want to force our idea of a curriculum onto teachers, but this page is provided as a teaching aid.
Using The Handouts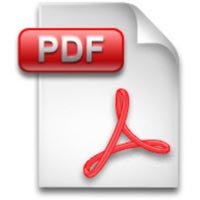 11. What's the best way to get the lesson plans from this site?
Most of the handouts on the Premium site are in PDF format, a widely used document format that is accessible across computer operating systems and browser types. To read PDF documents, you will need to download Adobe PDF reader or similar software. Most modern computers come with this type of software already installed.
Once you have saved the PDF files to your computer, it's simply a case of printing off and going to class! The beauty of the PDF files is that they will appear identical, regardless of screen size, printer set-up, browser or operating system.
12. Will I need anything else before I use the lesson plans with my students?
Each lesson plan also comes together with a page of Teacher Notes, so you'll be ready to teach immediately. More experienced teachers might choose to use these less than the more inexperienced teachers. In this way, esl-lounge Premium is ideal for teachers of every experience level. You can be assured that together with a complete lesson plan, the Teacher's Notes guarantee a smooth running lesson and zero or barely minimal preparation time for you.
Other Questions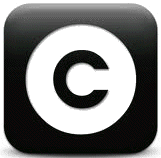 13. Can I put the materials from esl-lounge.com Premium onto my website or into a book/magazine?
You can freely use the handouts from the Premier site in your school or other educational institution for class or individual lessons but they may not be placed on any website - this is strictly forbidden. esl-lounge.com will protect its intellectual property by all means - you should read our Copyright Notice posted on this site. We have now closed down a total of two three sites who infringed our intellectual property.
If you want to use one or more of the lesson plans in a printed publication, requests such as these will be dealt with on an individual basis and should be addressed to the webmaster of the site
14. What do I do if I find a mistake in the lesson plans?
We have made every effort to ensure that all lesson plans are 100% accurate and error-free. Should you happen to find any errors, let us know as soon as possible and we can make any necessary changes. We will also add a free week's extension to your membership for each error you point out!
15. I am already a member of the Premium site but I am having problems with my account.
If you have lost your password, go to the Log In page and submit either your user name or your e-mail address from the second form on the page. If you are having other log in problems, go to our Log In problems page.
16. Can I refer my teaching colleagues to esl-lounge Premium?
If you are a Premium member and think friends or colleagues would benefit from signing up, referring them could earn you extra months on your membership or a percentage of their subscription fees! If you want to know more about this, contact us.
17. Do you only offer materials for English teachers?
We are also offering lesson plans, flashcards and board games in Spanish. See our information page about our Spanish materials and sign up today.
18. How do I cancel my PayPal subscription?
If you have a six-month Bronze Membership, this will renew automatically every six months. If you would like to cancel this, go to our guide about how to cancel a PayPal subscription.
Join esl-lounge Premium today
| | | | |
| --- | --- | --- | --- |
| | | | |
| Quality ESL lesson plans | Full teacher notes included | Color flashcards | Business and Young Learners |
"These lessons are made up by someone who knows how to teach and they have made my life infinitely easier. I have spent my life preparing these kinds of lessons and now they are done for me."
Patricia Adams