Why Join esl-lounge Premium?
Read this page in:

Español/Castellano

Français

Deutsch

Português (brasileiro)

Русский / Russian
Watch Our Video
Unbeatable Quality
These are fully comprehensive lesson plans with Teacher Notes written by a teacher with over 20 years of experience in the field and qualifications at the highest level in ESL.
Joining the Premium site only costs $29 for a Bronze Membership which is around 15 cents a day! All memberships give full access to every teacher resource on the site - the only difference between them is the length of access they give you. For example, our 24-month Platinum Membership is 25% cheaper! For this low price, you will have instant access to: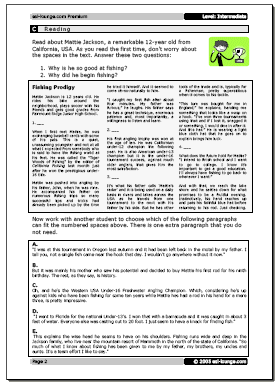 PDF Handouts - printable without alteration
PDF Handouts at Beginner, Elementary, Pre-Intermediate, Intermediate and Advanced levels. Covering a range of topics and categories: conversation, reading, grammar, vocabulary, role plays, pairwork and groupwork activities and much more.
These handouts can be opened and printed off for classroom use without any alteration. Open the lesson plan, press "Print" and everything has been made in super user-friendly A4 size for maximum convenience.
We have also added a large array of test preparation materials to help you prepare students for First Certificate, CAE Advanced, IELTS and Proficiency examinations.
Not Just Handouts
Several ESL sites offer paid memberships that give you access to materials you can find for free elsewhere. Our Premium materials are not just handouts, not just grammar exercises surrounded by clipart. They are top quality 4-7 page PDF lesson plans of a similar quality to those you would find in professional coursebooks.
Don't believe us? Check out our free samples page and request any other single lesson plan, totally free.
Both American and British English lesson plans available. You choose.
Uniquely among ESL sites, we offer all our lesson plans in both US and UK varieties of English. You can use whichever version that best suits you.
Lessons For Young Learners
We have a new section dedicated to lesson plans for Young Learners: fun lessons with sense-based activities, colors and repetition to enhance young learners' learning.
Business English section
Our Business English section will provide you with lesson plans aimed specifically at students doing Business English courses. These materials are available in three levels - Low, Middle and High levels.
Our great eBook puts everything in one place.
If you sign up for Lifetime Membership, you will get the chance to purchase a copy of our great eBook. This is every lesson plan on the Premium site in one simple-to-use eBook with over 1000 pages in total.
Listenings in MP3 format
We are the only ESL resource site which offers teachers the chance to download mp3 files (with transcripts) to be used in integrated listening lessons.
Complete teacher instructions for all handouts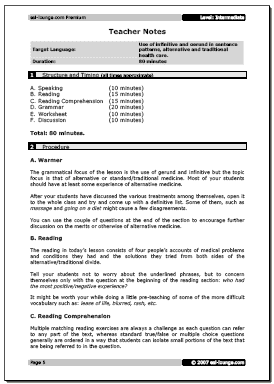 We don't only provide you with the complete lesson plan for your class, but also give you full teacher notes and instructions. It is just like following a simple recipe! Full answer keys are also included in teacher notes so you don't even have to do the exercises yourself. Lesson plans are easy to find using our Lesson Plan Tags, our search page or our Grammar Curriculum.
We Put Didactics At The Forefront
The Teacher Notes are not simply lists of answers. As much work goes into these Teacher Notes as does into the pages that the students see. We get all teachers, new and experienced, thinking about why they are doing what they are doing. Twenty years of ESL teaching experience comes across in every lesson plan. The students' learning both inside and outside the classroom is taken into consideration with lessons dedicated to what students can do to help their own vocabulary, listening and reading skills.
Image and Flashcard Resources
Easy-to-use, printable image resources for classroom use. We offer comprehensive flashcard collections to enhance your classroom teaching. Each image comes with an option to include text or not giving you the choice over how you use each one. All flashcards available in two teacher-friendly sizes: A4 and super large A3 size.
Board Games and Board Game Templates
Games can be used to create a fun learning environment. Our templates can be adapted for any grammar/vocabulary that you wish to revise with students. We also have board games designed to help you with specific grammar and/or speaking.
Printable PDF Documents comprising many of the materials from the free section of the site
As an added bonus for our Premium members, we are offering a large number of the materials from the main esl-lounge.com site in handy, user friendly PDF format: our document bundles. Download up to 60 pages of worksheets in one PDF file, answer sheets included. Just plain text on white paper, ready to print and use - no graphics, no ads, just the lesson materials as you yourself would prepare them.
Still not convinced?
Go to our page of free samples to see the quality of materials you'll be getting for your FIFTEEN CENTS A DAY.
See what our current members think on our testimonials page.
Lesson Plans in Spanish
We are now also offering lesson plans, flashcards and board games in Spanish.
See our information page about our Spanish materials and sign up today.
Join esl-lounge Premium today
| | | | |
| --- | --- | --- | --- |
| | | | |
| Quality ESL lesson plans | Full teacher notes included | Color flashcards | Business and Young Learners |
"These lessons are made up by someone who knows how to teach and they have made my life infinitely easier. I have spent my life preparing these kinds of lessons and now they are done for me."
Patricia Adams