esl lounge - the materials
viewing the materials
Viewing the materials on esl lounge couldn't be easier. Simply go to the level you are interested in. If you want to find out something more about what the level classifications mean, you will find an explanation on the site. As well as the 7 main levels, you will also find board games, songs that can be used in the esl classroom and also materials to aid teachers in the improvement of their students' pronunciation.
Each of the main levels (e.g. Intermediate) is divided into categories depending on the type of material (e.g. Grammar worksheet, discussion prompter, student to student survey, etc). Once you choose a category within a level, you will see a list of resources which you can select from. Every single resource on esl lounge is accompanied by a detailed description of what it is and how it can be used. These recommendations should not be taken as the only thing each resource can be used for.
saving and using the materials
Once you are on a page with something you are interested in using for your esl class, you need to save it onto your computer before you can print it off. To save it, choose the menu 'File' from the top left corner of your browser, then 'Save As'. You will then be asked to choose a folder/directory into which to save the page. Make sure you remember where the page is being saved for easy retrieval later!
After you have finished saving onto your computer all the files you want to use, you will then want to print off the pages for use with your students. You have two options at this point.
You can either decide to print off directly from the web page that you saved previously or you can copy and paste from the web page into a word processor program such as Microsoft Word. This is probably better as you will have full control over how the page looks and you can be more certain of how it will look once printed. You will also more easily be able to edit the materials and personalise them for your own class - always a good thing to do.
printing pages
On most of the pages containing the teaching materials themselves, you will find a link, "Printable Page". Clicking this link will take you to a simple, unformatted, black and white version of the page for ease of printing.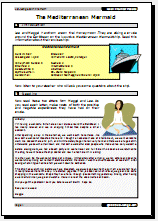 Come and join esl-lounge Premium.
High quality PDF lesson plans.
Full teacher notes - zero preparation time.
mp3 listening materials.
Full color flashcards for grammar/vocabulary teaching.
Thousands of content members from around the world.
Lesson plans in both British and American English.
Premium Home Page | Free Samples | Why Join | FAQ | Sign Up!
Take The Tour
★ Special Coupon Discount★
$8 off Lifetime Membership. Enter coupon code 8LIFE at registration.
(valid for this month)
what type of materials are on the site?
Each level is divided into categories. Below is a list to give you an idea of the type of resources you will find on esl lounge.
Student to Student/Teacher surveys
Reading Comprehensions
More Traditional Grammar Exercises
Error Correction and Grammar Auction Sheets
Pronunciation Activities
Board Games
Gap fills and jigsaw activities
Flashcards or Prompt cards
Songs
Presentation of Structures
Homework and Testing worksheet
Role Play Cards
I see there are some files in different formats
Yes, some of the fancier board games have had to be left in Word format. As long as you have at least Word97 installed on your computer, these files will open up in the normal way. For more information on the board games, go to the board games section.
copyright issues
You can feel free to use as many copies of these resources in as many classes as you like. Do not feel free, though, to put them on another web site. Please view the copyright page for further clarification.