Pre-Intermediate - worksheets
Present Perfect
Just, Yet, Already
Answer Sheet
Worksheet to practice the use of these three words often used in conjunction with the present perfect. Note that there are often quite big differences between how British and American speakers use these words - or more specifically how they would use the present perfect with these words.
"For" and "Since" Gap Fill Worksheet
Answer Sheet
A gap fill worksheet to help with the difference between "for" and "since".
He's Been and Gone
Answer Sheet
The difference between "been" and "gone" often confuses students. Here is a simple worksheet which focuses on the problem.
Present Perfect vs. Past Simple 1
Answer Sheet
Gap fill exercise where students have to choose between present perfect and past simple.
Present Perfect vs. Past Simple 2
Answer Sheet
Similar to the page immediately above.
Present Perfect & Past Simple Re-Ordering Worksheet
Answer Sheet
Students re-order the words to make sentences using the Present Perfect and the Past Simple.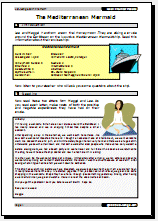 Come and join esl-lounge Premium.
High quality PDF lesson plans.
Full teacher notes - zero preparation time.
mp3 listening materials.
Full color flashcards for grammar/vocabulary teaching.
Thousands of content members from around the world.
Lesson plans in both British and American English.
Premium Home Page | Free Samples | Why Join | FAQ | Sign Up!
Take The Tour
★ Special Coupon Discount★
$8 off Lifetime Membership. Enter coupon code 8LIFE at registration.
(valid for this month)
Finished or Unfinished Time?
Answer Sheet
I use this in what I call a 'tennis' activity. Two groups challenge each other by 'serving' one of the words to other group who see if they can 'return' by correctly stating whether it is finished or unfinished and then giving the first group a new word to tackle. This type of activity can clearly be done with many language points.
For or Since worksheet
Answer Sheet
As with the activity above, this can be used as a class game to practice use of 'for' and 'since'.
George Richards, film maker
Answer Sheet
Present Perfect practice. Gap fill and follow-up exercise.
Present Perfect Short Answer Worksheet
Answer Sheet
Choosing the correct short answer to insert into present perfect sentences.
The Old Colonel
Answer Sheet
Short reading about an old man and his experiences. Following exercise where students have to provide the questions to the given answers.
Enough
Nouns & Enough Worksheet
Answer Sheet
Worksheet that focuses on using 'enough' with nouns.
Enough Matching Worksheet
Answer Sheet
Matching worksheet that focuses on 'enough'.
Enough Re-Ordering Worksheet
Answer Sheet
Students re-order the words to make sentences using 'enough'.
A Man Of Habit - Present Perfect Matching Worksheet
Answer Sheet
Students have to make sentences using the present perfect to describe the life of someone with a lot of habits!