Intermediate - flashcards and role cards
Addition To Your English School
Role play which practices functional English such as agreeing and disagreeing. Here, student talk about what new facilities should be added to their English school.
Looking For A Job
Students try and agree on the best way to look for a new job in order to help their friend out. Functional English practiced.
New Town Monument
The town's local celebrity has died and now the local government want to build a new monument to celebrate her life. Students try to come to an agreement about what the town should construct.
Relative Clause Flashcards
Students work in groups or as a whole class to ask each other simple questions - the answers to which contain relative clauses. A communicative way of practising what can be a dull grammatical point.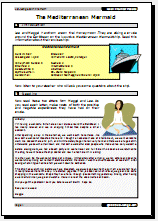 Come and join esl-lounge Premium.
High quality PDF lesson plans.
Full teacher notes - zero preparation time.
mp3 listening materials.
Full color flashcards for grammar/vocabulary teaching.
Thousands of content members from around the world.
Lesson plans in both British and American English.
Premium Home Page | Free Samples | Why Join | FAQ | Sign Up!
Take The Tour
★ Special Coupon Discount★
$8 off Lifetime Membership. Enter coupon code 8LIFE at registration.
(valid for this month)
New Road Discussion
The decision to build a new road across old woodland has divided local opinion and caused quite a row. Students discuss the pros and cons of the plan using functional English.
Doctors: practice of medical vocabulary
This is a mingle activity where students move around the class divided into doctors and patients. The patients ask the doctors about medical problems and can choose to accept their diagnosis and advice or not.
Holiday/Vacation role cards
Role cards for four holiday/vacation situations.
Teacher's Gift
The teacher is leaving the school at the end of the year and the students have decided to buy him/her a present. But what to buy?. Practice of modals, coming to an agreement.
Tom Feels Overweight
The students' friend, Tom, say he is too fat and wants suggestions on what he could do to lose weight. Practice of modals and giving advice.
First and Second Conditional Flashcards
To practice conditionals in general and in particular the difference between first and second conditionals. Students work in pairs or small groups and take turns to ask other students questions using either first or second conditional depending on the situation described on each flashcard.
Infinitive or Gerund Flashcards
These flashcards practice the use of gerund or infinitive in simple sentence structures. One student has all the "heads" of the sentences and the other student has all the "tails". As the two halves of the sentence are put together, they are put aside until all are complete.