Song Lyrics W to Z
Wake Me Up When September Ends - Green Day
Memories, reminiscing.
Walking After Midnight - Patsy Cline
Gerunds
Watching the Wheels - John Lennon
Way You Do The Things You Do - UB40
Adjectives
We Are The World
Good topic/discussion starter
The Dangling Modifier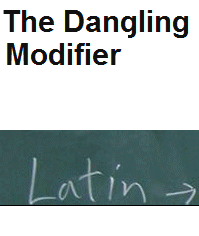 Our new blog, for teachers and learners of English.
Articles on ESL teaching, lesson preparation, teaching theory and much more. Come and visit us today, take part, feel free to leave a comment - registration not required.
We Belong Together - Mariah Carey
Tenses: futures, present continuous, etc.
We Can Work It Out - The Beatles
We Didn't Start The Fire - Billy Joel
Lots of historical references. Good for topic such as '20th Century'.
Wednesday Morning, 3a.m - Simon & Garfunkel
We've Only Just Begun - The Carpenters
When A Child Is Born - Johnny Mathis
Where Do I Begin? - Andy Williams
Theme from "Love Story" film.
Where Do The Children Play - Cat Stevens
Where Is The Love - Black Eyed Peas
Wichita Lineman - Glen Campbell
Wind Beneath My Wings - Bette Midler
The Winner Takes it all - Abba
When I'm 64 - The Beatles
Whole lesson plan sent in by Ishbel Saxton, Manchester.
Whiter Shade of Pale - Procol Harum
With A Little Help From My Friends - The Beatles
Conditionals.
Wonderful Tonight - Eric Clapton
Good narrative song, story telling.
Wonderful World - Louis Armstrong
Colors. Good song for beginner class.
Wouldn't It Be Nice - The Beach Boys
Conditionals, modals.
Yellow - Coldplay
Past simple.
Yellow Submarine - The Beatles
Yesterday Once More - The Carpenters
Memories, reminiscing.
You Are My Sunshine - Traditional
You Can't Always Get What You Want - The Rolling Stones
You Gotta Be - Des'ree
Worksheet sent in by Miriam Garcža teaching in Spain.
You're Beautiful - James Blunt
Past Simple.
You've Got A Friend - Carole King
Zebra - John Butler Trio
Great song for vocabulary work on opposites.