Elementary - vocabulary 2
Absolute and Gradeable Adjectives
Answer Sheet
Mini review of the rules concerning gradeable and absolute adjectives followed by an exercise to put adjectives from a mixed list into the correct category.
School Ages Worksheet
Answer Sheet
Matching a student with the correct school or college.
Food and Cooking Odd One Out
Answer Sheet
Which word is the odd one out? All words related to cooking and food.
Furniture Odd One Out Worksheet
Answer Sheet
Which word is different? Students find the odd one out among these furniture words.
Jobs Gap Fill Worksheet
Answer Sheet
Students complete sentences using the correct job name.
Food and Drink Gap Fill
Answer Sheet
Put the correct food/drink word into each gap to complete the sentence.
Morning Activities
Answer Sheet
Students fill each space with an object used in the morning. Good practice of present continuous too.
Which School Subject
Answer Sheet
Students read something a teacher says in a school lesson, but which subject?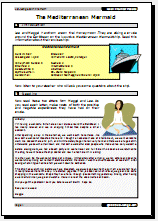 Come and join esl-lounge Premium.
High quality PDF lesson plans.
Full teacher notes - zero preparation time.
mp3 listening materials.
Full color flashcards for grammar/vocabulary teaching.
Thousands of content members from around the world.
Lesson plans in both British and American English.
Premium Home Page | Free Samples | Why Join | FAQ | Sign Up!
Take The Tour
★ Special Coupon Discount★
$8 off Lifetime Membership. Enter coupon code 8LIFE at registration.
(valid for this month)
Personality Adjectives
Answer Sheet
Different personality adjectives are put into sentences with gaps.
Descriptive Adjectives
Answer Sheet
Students place descriptive adjectives into sentences in this gap fill worksheet.