TOEFL Grammar
Here are some grammar tests and exercises to help prepare you for the TOEFL exam.
Multiple Choice quiz that tests modal verb use.
TOEFL Grammar: Modals Exercise
Exercise Number: TOEFL054
Multiple choice exercises about the use of comparative and modifier expressions.
TOEFL Grammar: Comparatives & Modifiers Exercise 1
Exercise Number: TOEFL055
TOEFL Grammar: Comparatives & Modifiers Exercise 2
Exercise Number: TOEFL056
TOEFL Grammar: Comparatives & Modifiers Exercise 3
Exercise Number: TOEFL057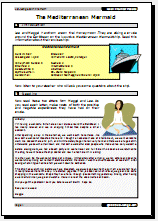 Are you also an English teacher?
High quality PDF lesson plans.
Full teacher notes - zero preparation time.
mp3 listening materials.
Full color flashcards for grammar/vocabulary teaching.
Thousands of content members from around the world.
Lesson plans in both British and American English.
Premium Home Page | Free Samples | Why Join | FAQ | Sign Up!

Take The Tour
★Special Coupon Discount★
$8 off Lifetime Membership. Enter coupon code 8LIFE at registration.
(valid for this month)
Connectors such as 'despite', 'while', 'because', etc.
TOEFL Grammar: Connectors Exercise
Exercise Number: TOEFL058
Choose the grammatically correct sentence.
TOEFL Grammar: Choose The Correct Sentence Exercise
Exercise Number: TOEFL059
Practice of parallel structures, good for the reading part of the test too.
TOEFL Grammar: Parallel Structures Exercise
Exercise Number: TOEFL060
English Learning Lounge - iOS and Android Apps

Our app for both Android and iOS to help you improve your English!

Full Grammar explanations.
Exercises to help with Grammar, Vocabulary, Listening, Reading and Pronunciation.
Exam Levels - First, Advanced, Proficiency, IELTS, TOEFL
Authentic English listening and reading materials.
Fun, imaginative quizzes and games.
Full statistics. Track your progress as your English improves!
Download today for FREE!
Choose which word is grammatically wrong in each sentence.
TOEFL Grammar: Word Choice Exercise 1
Exercise Number: TOEFL061
TOEFL Grammar: Word Choice Exercise 2
Exercise Number: TOEFL062
TOEFL Grammar: Word Choice Exercise 3
Exercise Number: TOEFL063
TOEFL Grammar: Word Choice Exercise 4
Exercise Number: TOEFL064
Choose the correct answer in these sentences that all include negative structures.
TOEFL Grammar: Negative Multiple Choice Exercise: Negatives
Exercise Number: TOEFL065
Verbs and Tenses Multiple Choice Exercises
TOEFL Grammar: Verbs & Tenses Exercise
Exercise Number: TOEFL066
TOEFL Grammar: Verbs & Tenses Exercise
Exercise Number: TOEFL067
Multiple Choice exercises about noun phrases and use of articles.
TOEFL Grammar: Noun Phrases Exercise
Exercise Number: TOEFL068
TOEFL Grammar: Noun Phrases Exercise
Exercise Number: TOEFL069
Best TOEFL Books For Students