Reading - Pre-Intermediate
The Party
A short description of a party with some famous guests. Some phrases have been taken out. Find the correct place for them to complete the story.
Exercise Number: 2R1
Confused Letter
Use the missing paragraphs to fill in the spaces in this letter from Mike about his vacation in Europe.
Exercise Number: 2R2
Caribbean Cruise
Read the advert for the cruise, then answer the true/false questions.
Exercise Number: 2R3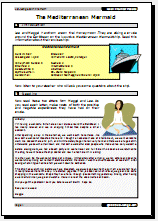 Are you also an English teacher?
High quality PDF lesson plans.
Full teacher notes - zero preparation time.
mp3 listening materials.
Full color flashcards for grammar/vocabulary teaching.
Thousands of content members from around the world.
Lesson plans in both British and American English.
Premium Home Page | Free Samples | Why Join | FAQ | Sign Up!

Take The Tour
★Special Coupon Discount★
$8 off Lifetime Membership. Enter coupon code 8LIFE at registration.
(valid for this month)
The Silver Glove
Film critics give their opinion of the latest pirate film.
Exercise Number: 2R4
Just Married
Read about the newly weds, then answer the true/false questions.
Exercise Number: 2R5
English Town
A new type of town in China.
Exercise Number: 2R6
Pen Pals
A letter from one friend to another.
Exercise Number: 2R7
Eating Out
Four people talk about the last time they went out to eat.
Exercise Number: 2R8
English Learning Lounge - iOS and Android Apps

Our app for both Android and iOS to help you improve your English!

Full Grammar explanations.
Exercises to help with Grammar, Vocabulary, Listening, Reading and Pronunciation.
Exam Levels - First, Advanced, Proficiency, IELTS, TOEFL
Authentic English listening and reading materials.
Fun, imaginative quizzes and games.
Full statistics. Track your progress as your English improves!
Download today for FREE!
The Circus: Superlatives and Comparatives
A reading about a circus and some true/false questions - and good practice of comparatives and superlatives too.
Exercise Number: 2R9
Black Hollywood
Read this movie review about an exciting film.

Vocabulary Definition Quiz
Read the definitions of words used in the text.
Exercise Number: 2R10
Reading Comprehension Multiple Choice
Answer these multiple choice questions about the text.
Exercise Number: 2R11
Aunt Helen's House
Read about a strange house.

Multiple Choice Questions
Multiple choice quiz.
Exercise Number: 2R12
The Scotland Trip
Read the instructions for the trip to Scotland.

Multiple Choice Questions
Read each sentence about the reading and decide if it's true, false or not stated.
Exercise Number: 2R13