Guide to Using Site
bookmark the site
Bookmark the home page of the site. This will allow you to return to esl-lounge Student site without any problems.
level test
The first thing you should do on the esl-lounge Student site is to complete the level test.
the grammar guide
We have a comprehensive guide to English grammar, divided into five levels.
When you want to do some grammar exercises, you will find links to the grammar guide so that you can revise the relevant grammar before doing any exercises. For example, if you want to do some exercises on the Present Perfect, you can find some links to the parts of the grammar guide dealing with the present perfect before the exercises.
the grades and what they mean
After you do every exercise, when you press the "Mark Answers" button, you will see a small pop-up with the score for the exercise you have just done. You will see something like this: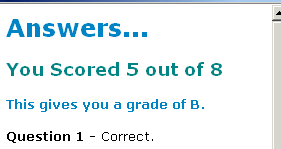 A grade will be given between A (good) and E (not good) and these mean as follows:
A - good performance. You don't need to repeat this exercise.
B - satisfactory performance. Only repeat if you feel you need to.
C - look over the grammar again before trying again.
D - study the grammar well again before trying again.
E - you haven't understood this and you should do exercises at a lower level OR study the grammar more.
English Learning Lounge - iOS and Android Apps

Our app for both Android and iOS to help you improve your English!

Full Grammar explanations.
Exercises to help with Grammar, Vocabulary, Listening, Reading and Pronunciation.
Exam Levels - First, Advanced, Proficiency, IELTS, TOEFL
Authentic English listening and reading materials.
Fun, imaginative quizzes and games.
Full statistics. Track your progress as your English improves!
Download today for FREE!
keeping scores
You can download and print off this handy Mark Sheet to help you keep your personal record of scores and remember which exercises you need to do again.
using tab key
While you are doing the exercises on this site, you may find it helpful to use the keyboard to navigate your way around from box to box. Use the tab key to go onto the next box - this is easier than using the mouse when you are typing.
exercise codes
Each exercise has an its own code. This is to help you understand which exercises you have already done and which you need to try again.
Every exercise code has three parts.
level / type / number
1 - elementary
2 - pre-intermediate
3 - intermediate
4 - advanced
V - vocabulary
PV - phrasal verbs
R - reading
G - grammar
L - listening
So 3R23 would be the 23rd reading exercise at intermediate level.