Using The Listening Materials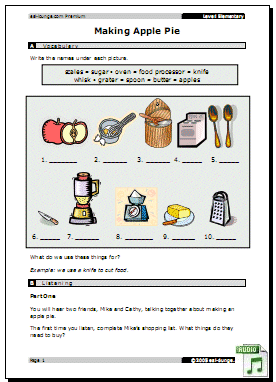 We have some great listening resources here on esl-lounge Premium. These listenings can be used either as a part of a comprehensive, integrated listening lesson or as a stand-alone activity.
We have a wide variety of listening exercises available using different accents in a range of realistic situations - conversations, interviews, speeches, announcements, broadcasts and more.
Getting the listenings into your classroom.
Here is a step-by-step guide to using the listening lessons on esl-lounge Premium. If you are already familiar with using these listening files, just click on the "Listening Bank" link in the menu on the left.
1. There are two components for each listening lesson. All the mp3 files and transcripts (in PDF format) can be found in the Listening Bank section of the Premium site.
2. In the Listening Bank, right click your mouse on the "Download File" link. Choose "Save Target As" (as illustrated below) and save the mp3 either to your computer. If you are using Chrome/Firefox, you need to right click and select "Save Link As".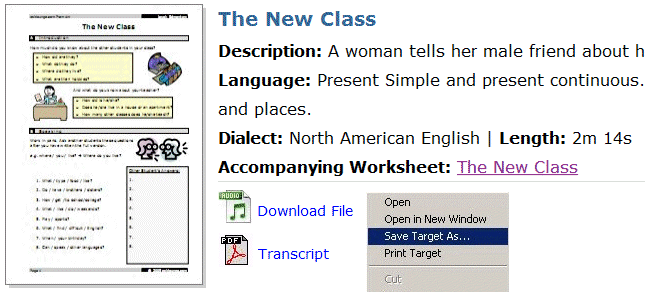 3. Now repeat the procedure with the "Transcript" link. That way, you will have the words of the recording and can use it yourself in class or choose to do a variety of activities in class with your students. That's it! You now have both the mp3 audio file and the PDF transcript document on your computer.
4.You now have the mp3 file and the transcript - all you need is the listening lesson plan itself. Each of the four levels have their own listening pages on esl-lounge Premium. On these pages, you will find the lesson plans related to listening:
5. To use in the classroom, first open the transcript PDF (using Adobe or other similar PDF software) and print it.
6. To use the mp3 file in class, the easiest thing to do is to burn it onto a CD using a burning application such as Nero or Easy CD. Most computers come with pre-installed software to allow you to burn files onto a CD. Once you've done that, you can play the CD in your classroom using any CD player or even a laptop computer.
If you have any queries at all about how to use the listening files on esl-lounge Premium, don't hesitate to contact us and ask us anything you like.
The Transcripts
Every listening you will find on esl-lounge Premium comes with a high quality PDF transcript. You can choose to use these in a variety of ways such as gap-filling (cloze), cut up and re-order or just to help students with a difficult listening.
If you find any mistakes in the transcripts, be sure to let us know.