ESL Books Guide
There are ESL books in two categories on this page.
Grammar Reference Books - Every teacher has been stumped by a student's tricky grammar question at one time or another. These grammar reference books will help you stay at least one page ahead of your students!
Games, Warmers, Ice Breakers, etc - If you have a five-minute hole in your lesson or you're just looking for a nice warmer to begin the lesson with, these are the books for you.
Grammar Reference Books
Practical English Usage - Michael Swan | See in UK
The Grammar Book: An ESL/EFL Teacher's Course, Second Edition - Marianne Celce-Murcia | See in UK
The Teacher's Grammar of English: A Course Book and Reference Guide, with answers - Ron Cowan | See in UK
How to Teach Grammar - Scott Thornbury | See in UK
A Practical English Grammar - A. J. Thomson | See in UK
Understanding and Using English Grammar Workbook - Betty Schrampfer Azar | See in UK
The Only Grammar Book You'll Ever Need: A One-Stop Source for Every Writing Assignment - Susan Thurman | See in UK
The McGraw-Hill Handbook of English Grammar and Usage | See in UK
The Blue Book of Grammar and Punctuation: An Easy-to-Use Guide with Clear Rules - Jane Straus | See in UK
English Grammar For Dummies - Geraldine Woods | See in UK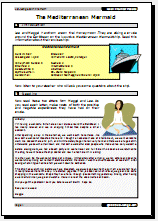 Come and join esl-lounge Premium.
High quality PDF lesson plans.
Full teacher notes - zero preparation time.
mp3 listening materials.
Full color flashcards for grammar/vocabulary teaching.
Thousands of content members from around the world.
Lesson plans in both British and American English.
Premium Home Page | Free Samples | Why Join | FAQ | Sign Up!
Take The Tour
★ Special Coupon Discount★
$8 off Lifetime Membership. Enter coupon code 8LIFE at registration.
(valid for this month)
Games, Icebreakers, Warmers and Other Short Activities
Five-Minute Activities: A Resource Book of Short Activities - Penny Ur | See in UK
Index Card Games for ESL - Raymond C Clark | See in UK
Ready-to-Use ESL Activities for Every Month of the School Year - Carol A. Josel | See in UK
ESL Games and Classroom Activities: An Interactive Activity Book for All Ages - Lucia Gorea | See in UK
Grammar Games: Cognitive, Affective and Drama Activities for EFL Students - Mario Rinvolucri | See in UK
Activities, Games, and Assessment Strategies for the Foreign Language Classroom - Amy Buttner | See in UK
Lessons from Nothing: Activities for Language Teaching with Limited Time and Resources - Bruce Marsland | See in UK
Games for Language Learning - Andrew Wright | See in UK
ESL Reading and Spelling: Games, Puzzles, and Inventive Exercises - Imogene Forte | See in UK