ESL Books Guide
There are ESL books in two categories on this page.
General Resource Books - Books that provide a wealth of materials and resources across a wide range of skills: writing, grammar, reading, speaking, pronunciation and more.
Dictionaries - No ESL teacher is fully equipped for the classroom without a top quality monolingual dictionary. There are also suggestions here for other types of dictionary such as phrasal verbs and collocations.
General Resource Books
Classroom Teacher's ESL Survival Kit - Elizabeth Claire | See in UK
Reading, Writing and Learning in ESL: A Resource Book for Teaching K-12 English Learners - Suzanne F. Peregoy | See in UK
The ESL/ELL Teacher's Book of Lists (J-B Ed: Book of Lists) - Jacqueline E. Kress | See in UK
Esl Active Learning Lessons: 15 Complete Content-Based Units to Reinforce Language Skills and Concepts - Imogene Forte | See in UK
Five-Minute Activities: A Resource Book of Short Activities - Penny Ur | See in UK
Ready-to-Use ESL Activities for Every Month of the School Year - Carol A. Josel | See in UK
Picture This! A Beginning ESL Teacher's Resource Book | See in UK
The Dangling Modifier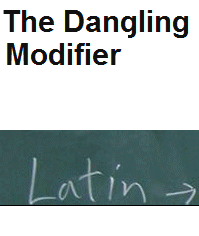 Our new blog, for teachers and learners of English.
Articles on ESL teaching, lesson preparation, teaching theory and much more. Come and visit us today, take part, feel free to leave a comment - registration not required.
Dictionaries
Concise Oxford English Dictionary: Dictionary and CD-ROM | See in UK
Third New International Dictionary of the English Language | See in UK
New Oxford American Dictionary | See in UK
Shorter Oxford English Dictionary | See in UK
Merriam-Webster's Collegiate Dictionary | See in UK
Merriam-Webster Children's Dictionary | See in UK
The American Heritage College Thesaurus | See in UK
Oxford Phrasal Verbs Dictionary | See in UK
Oxford Collocations Dictionary | See in UK
Oxford Advanced Learner's Dictionary | See in UK
Longman Language Activator: Helps You Write and Speak Natural English | See in UK
Longman Dictionary of American English | See in UK
Merriam-Webster's Dictionary and Thesaurus | See in UK
Oxford English Dictionary | See in UK
McGraw-Hill's Dictionary of American Slang and Colloquial Expressions | See in UK
Troublesome Words - Bill Bryson | See in UK
Dictionary of American Regional English | See in UK
Oxford Dictionary of Quotations | See in UK