ESL Books Guide
There are ESL books in two categories on this page.
Teaching Children - Teaching children brings its own special concerns and these books will help you with this specialized topic.
Pronunciation - Successful pronunciation is so important for students to feel confident in their own language ability and these books deal with the pronunciation of individual sounds as well as sentence level pronunciation such as intonation and rhythm.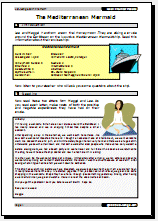 Come and join esl-lounge Premium.
High quality PDF lesson plans.
Full teacher notes - zero preparation time.
mp3 listening materials.
Full color flashcards for grammar/vocabulary teaching.
Thousands of content members from around the world.
Lesson plans in both British and American English.
Premium Home Page | Free Samples | Why Join | FAQ | Sign Up!
Take The Tour
★ Special Coupon Discount★
$8 off Lifetime Membership. Enter coupon code 8LIFE at registration.
(valid for this month)
Teaching Children
One Child, Two Languages: A Guide for Early Childhood Educators of Children Learning English as a Second Language - Patton O. Tabors | See in UK
Many Languages, One Classroom: Teaching Dual and English Language Learners - Karen Nemeth | See in UK
Teaching the World's Children: ESL for Ages Three to Seven, Second Edition (Pippin Teacher's Library) - Mary Ashworth | See in UK
Merriam-Webster Children's Dictionary | See in UK
Webster's New World Children's Dictionary | See in UK
The Flannel Board Storytelling Book - Judy Sierra | See in UK
Scott Foresman ESL Student Book, Grade 1 | See in UK
Scott Foresman ESL Student Book, Grade 2 | See in UK
Scott Foresman ESL Student Book, Grade 3 | See in UK
English Learning Lounge - iOS and Android Apps

Our app for both Android and iOS to help your students improve their English!

Full Grammar explanations.
Exercises to help with Grammar, Vocabulary, Listening, Reading and Pronunciation.
Authentic English listening and reading materials.
Fun, imaginative quizzes and games.
Full statistics. Track your progress as your English improves!
Download today for FREE!
Pronunciation Books
Pronunciation Pairs Student's Book with Audio CD | See in UK
Teaching Pronunciation Paperback with Audio CDs: A Course Book and Reference Guide - Marianne Celce-Murcia | See in UK
Pronunciation Games - Mark Hancock | See in UK
Pronouncing American English: Sounds, Stress, and Intonation - Gertrude F. Orion | See in UK
Clear Speech Student's Book with Audio CD: Pronunciation and Listening Comprehension in American English - Judy B. Gilbert | See in UK
Tree or Three? Student's Book and Audio CD: An Elementary Pronunciation Course - Ann Baker | See in UK
Ship or Sheep? Book and Audio CD Pack: An Intermediate Pronunciation Course - Ann Baker | See in UK
Pronunciation Practice Activities Book and Audio CD Pack: A Resource Book for Teaching English Pronunciation - Martin Hewings | See in UK
Phonetics: Transcription, Production, Acoustics, and Perception - Henning Reetz | See in UK
A Pronouncing Dictionary of American English | See in UK