Beginners - flashcards and role cards
Present Simple - Question and Answer Mix
All the answers and questions have been mixed up. Students move around the class in order to put them together again.
ID cards: empty master copies
Very simple "Name | Age | Job | From" cards that students can fill out with real or imaginary information. They are then used in all-class mingle activities. Advantage of these cards are that they can be used very early in the course after only about 2 or 3 hours of instruction.
Party Mix Flashcards
Flashcards with to be/present simple questions for party role play. Students move around asking and answering the questions, using appropriate answers. There is also a higher level Party Mix Flashcards, using also past simple and present continuous.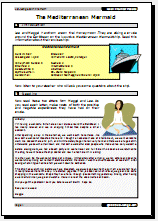 Come and join esl-lounge Premium.
High quality PDF lesson plans.
Full teacher notes - zero preparation time.
mp3 listening materials.
Full color flashcards for grammar/vocabulary teaching.
Thousands of content members from around the world.
Lesson plans in both British and American English.
Premium Home Page | Free Samples | Why Join | FAQ | Sign Up!
Take The Tour
★ Special Coupon Discount★
$8 off Lifetime Membership. Enter coupon code 8LIFE at registration.
(valid for this month)
What Time Does...?
Flashcards to practice telling the time and forming questions using the present simple.
Family Tree Flashcards
Flashcards to practice family tree vocabulary such as cousin, aunt, nephew, etc.
Airport Information Exchange
To practice asking about times and places. Students exchange information about planes leaving New York airport for places around the world.