Pre-Intermediate - vocabulary 3
Compound Nouns - Right or Wrong?
Answer Sheet
Vocabulary worksheet that gives your student practice at compound nouns.
Positive and Negative Words
Answer Sheet
Students decide if each word given has a generally positive, negative or neutral meaning.
The Size Of Things
Answer Sheet
Students put different objects into order based on their size.
Groups of Things - Collective Nouns
Answer Sheet
Vocabulary worksheet focusing on collective nouns and their composite parts, e.g. team/players.
Adjective/Noun Worksheet
Answer Sheet
Students fill in the noun equivalents of adjectives and vice versa.
Size Ranking Vocabulary Worksheet
Answer Sheet
Useful vocabulary worksheet where groups of things are ranked by their size.
Types Of TV Show
Students sort different TV show types into columns depending on whether they like them or not.
Adjectives Opposites Worksheet
Answer Sheet
Student re-write sentences using the opposite of the adjective from the original sentence.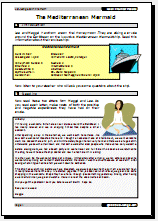 Come and join esl-lounge Premium.
High quality PDF lesson plans.
Full teacher notes - zero preparation time.
mp3 listening materials.
Full color flashcards for grammar/vocabulary teaching.
Thousands of content members from around the world.
Lesson plans in both British and American English.
Premium Home Page | Free Samples | Why Join | FAQ | Sign Up!
Take The Tour
★ Special Coupon Discount★
$8 off Lifetime Membership. Enter coupon code 8LIFE at registration.
(valid for this month)
How Are You Feeling Today?
Answer Sheet
Student classify adjectives into positive and negative, then choose some for how they are feeling today.
Where Are We?
Answer Sheet
Students use other vocabulary clues to fill in the final space. Good for place vocabulary.
Chaos On My Desk
Answer Sheet
Students match two halves to make names for objects, e.g. pencil sharpener.
Prepositions After Adjectives Worksheet
Answer Sheet
Students choose the correct preposition to go after each adjective, to practice common adjective phrases such as 'ashamed of', 'famous for', etc.
Prepositions After Adjectives Worksheet 2
Answer Sheet
Second worksheet on prepositions after adjectives.