Pre-Intermediate - survey and pairwork resources
Survey and Pairwork pages:
You are on Page One
Page Two

---
Back to the Pre-Intermediate main page
Your Last Holiday
Student to Student questionnaire about holidays/vacations. Past Simple practice.
What are you going to do...?
'Going to' and present continuous for future.
What were you doing...?
To practice past continuous. Student to student survey.
Susan Marsh
Information gap for student pairwork reviewing level one and two grammar.
Six Cities Information Gap
These are the blank sheets which students have to fill out with information taken from the page below. Gives practice of weather vocabulary and 'what like?' questions. By the way, Aosta is an Alpine resort in the north of Italy!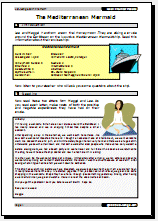 Come and join esl-lounge Premium.
High quality PDF lesson plans.
Full teacher notes - zero preparation time.
mp3 listening materials.
Full color flashcards for grammar/vocabulary teaching.
Thousands of content members from around the world.
Lesson plans in both British and American English.
Premium Home Page | Free Samples | Why Join | FAQ | Sign Up!
Take The Tour
★ Special Coupon Discount★
$8 off Lifetime Membership. Enter coupon code 8LIFE at registration.
(valid for this month)
John Carpenter
All about John the 'famous' musician. Information gap for student to student pairwork. Mainly level 1A and 1B tenses practiced.
'How Long Have You...?' Survey
Student to student survey to practice present perfect when discussing unfinished time.
Is Your Life Interesting?
Student to student survey based on each other's experiences of life. Focuses on the switch from present perfect to past simple within a dialogue.
Find Someone Who: Past
Students circulate around the class in a mingling activity where they need to find and write the name of someone who meets the criteria written on their sheet, in this example someone who did certain things in the past.
Find Someone Who: Present Perfect
Another similar activity to that above, this time having to ask other students about their life experiences.
Empty Diary 1
Empty diary that can be used in a variety of ways to practice future forms.
Empty Diary 2
Different form of the empty diary from above.
Survey and Pairwork pages:
You are on Page One
Page Two

---
Back to the Pre-Intermediate main page