Should ESL teachers avoid talking about politics and religion?
Back to ESL Talking Points page.
It depends on where you are. It is not a good idea to talk about religion or politics to Chinese students in China. Many people in China still have a habit of "reporting" your private comings and goings to people in jobs of authority. And there are many nosy busy-bodies who think it's their business to ask others where you've been/ when/ with whom -and probably what you spoke about.They definitely keep tabs on you. It's difficult to talk about religion without doing so from some "agenda" even if you think you are very "tolerant" and "accepting". The "tolerance itself can have hypocrisy embedded within it, or you may offend non-religious people by not criticizing ideas which they feel are silly. I think that if you REALLY what to talk about it, then you can do it outside the classroom and you can really get in and have a good debate. In the classroom you end up being a hypocrite because of the restraints of politeness (which should be adhered to with fee-paying students) or you have some wishy-washy "social chat" instead of a good gutsy debate - which would be stimulating for advanced students.
Frank Snell
In my opinion I think that politics and religion need to be talked about in the classroom, especially with adult learners. It is essential for them to have information to base decisions and be allowed to decide for themselves what they will believe. It is up to the teacher to present material on both topics in an unbiased and factual manner rather than as opinion. We need to challenge students to think on their own and to have a well rounded and not narrow world view.
Cheryl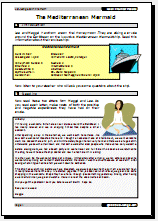 Come and join esl-lounge Premium.
High quality PDF lesson plans.
Full teacher notes - zero preparation time.
mp3 listening materials.
Full color flashcards for grammar/vocabulary teaching.
Thousands of content members from around the world.
Lesson plans in both British and American English.
Premium Home Page | Free Samples | Why Join | FAQ | Sign Up!
Take The Tour
★ Special Coupon Discount★
$8 off Lifetime Membership. Enter coupon code 8LIFE at registration.
(valid for this month)
Well, I was debating this myself, but I recently did a poll in my conversation class of topics they want to discuss. The students generated their own topics, and voted on them, and guess what, War in Iraq is right at the top of the list.

I don't have a problem with it, but I am going to put some preparation into it. (Like, ask students a week beforehand to start RESEARCHING it and to find a couple of interesting articles - or questions that they want to know the answers to).

I doubt we'll reach any definite answers, but I'm sure we'll raise some interesting questions. Also my students seem to be fairly mature so I think that is good. Several of them have already expressed "war is bad" sentiments (and some have attended protests). That is okay but I will tell them I expect a bit more background and "meat" in their arguments. ie. how would the problems be addressed if not by the war?

As to religion ... I don't know. I'd be tempted to leave that one right alone. Yet its a shame that it's hardly discussed anywhere these days. I was brought up Christian, and I am interested in the way religion can affect world views so deeply. But I think this topic could really isolate and divide students.
Natasha - Western Australia
Well, I myself found very simulating to discuss about political or religious issues in my English classes as I was a student. Thus, now that I am an Esl teacher, from time to time I insist on proposing different activities about particular topics from the current political events. And all this not only with adult learners, but also with my much younger students of the secondary school. Of course, I have to simplify somewhat, but it is very involving for all. It is a break from (and a cultural enrichment of) the sometimes a little too boring lines of the curriculum. Up to now my students have almost always shared my suggestions of topics to deal with or have themselves proposed some and we are all satisfied with this way of working in the English classes.
Maria Alberto (Italy)
Well, at BERLITZ we can't talk about religions, politics at all !! But I think it's wrong because this is very good issue to talk about I mean advance courses. Secondly position of English as a world language is extremely important. I belive sooner or later English is going to be the most important and mostly used all over the world.
Galia
I do not think that teachers should ever voice their opinion on tricky subjects, especially when one is a guest in another country. If you are teaching English in your own country it is slightly different. Then I think you can talk about war, politics etc. but only if you offer all points of view. Teachers should not sell their personal ideas to students, ever.
Julia Green
Politics and Religion - Avoid it? No, I don't believe so. Bring it up in class? No, however answering direct questions briefly is appropriate and culturally correct. If extensive discussion is required, defer to a time and place outside of the classroom. This has always worked out well for me. I don't like to get into discussions which can become potentially heated in the classroom, and time is limited. These discussions quite frequently come up, though, in the normal course of ESL. Often, at least where we live and work, one of the purposes of ESL is to train people who will work with native English speakers who are engaged in business or democracy development in some way. Politics and religion play a role in how these things have developed in the Western world and are therefore of interest to our students.
Max
I think that politics and religion are a part of life and so interesting to all of us. OF COURSE it should be discussed in our classrooms at all ages. It is a part of culture. We must learn to respect, value and understand each others cultures if we are to get along with each other in this world.

I have a sister school program...I am looking for teachers ALL OVER THE WORLD with students who would like pen/keyboard pals in the United States.

Please...adults and children both need to learn as much as we possibly can about these things, all over the world...we need to communicate and listen to each other about these things.

English is a very important medium in all of this. It is a main vein of communication...in the internet especially. Peaceout
Jenn Laskin, Santa Cruz, CA

comments powered by Disqus