C2 Proficiency - Reading Multiple Matching
Certificate of Proficiency in English (CPE)
The final part of the C2 Proficiency Reading and Use of English paper is Multiple Matching. A student must match questions or prompts to parts of a single text or individual smaller texts that follow. This tests their ability to understand specific detail and author attitude and opinion.
The Attractions of Devon and Cornwall
Find out about the south west of England while doing this multiple matching reading exercise.
Answer Sheet
Tip Box
In these exercises, students find references in the text to the prompt question, for example "which of these actors had a difficult childhood?". There may be more than one answer. This is a good reading comprehension exercise for both skim reading and scanning for detail. Often this exercise is not necessarily about the difficulty of the questions or the text, but of time management on the students' part. For this reason, it's important that after the student is familiar with the structure of the exercise, they are done on a timed basis, especially in preparation for examinations.
Four 19th Century U.S Presidents
Some of the lesser well known US Presidents - learn more and do a multiple matching reading exercise.
Answer Sheet
Getting Around Bangkok
How to move around the wonderful Thailand capital, Bangkok. And...a multiple matching reading exercise.
Answer Sheet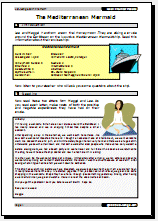 Come and join esl-lounge Premium.
High quality PDF lesson plans.
Full teacher notes - zero preparation time.
mp3 listening materials.
Full color flashcards for grammar/vocabulary teaching.
Thousands of content members from around the world.
Lesson plans in both British and American English.
Premium Home Page | Free Samples | Why Join | FAQ | Sign Up!
Take The Tour
★ Special Coupon Discount★
$8 off Lifetime Membership. Enter coupon code 8LIFE at registration.
(valid for this month)
Hollywood Actors
Biographies of four leading Hollywood actors and accompanying multiple matching reading exercise.
Answer Sheet
John Grisham Novels
Details of four John Grisham novels (spoiler alert!) and a multiple matching reading exercise.
Answer Sheet
Outlaws Of The Wild West
Information about four old-style Wild West outlaws and a multiple matching reading exercise.
Answer Sheet
Four Woods
Information about four woods and the uses they have in this multiple matching reading exercise.
Answer Sheet
English Mazes
Information about four English mazes in this multiple matching reading exercise.
Answer Sheet