Upper Intermediate - miscellaneous
Impossible Sentences!!!!
For a bit of fun. Give your students this impossible looking line up of words and ten minutes to make real English out of it. Click here if you really can't work it out yourself.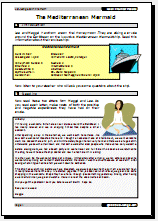 Come and join esl-lounge Premium.
High quality PDF lesson plans.
Full teacher notes - zero preparation time.
mp3 listening materials.
Full color flashcards for grammar/vocabulary teaching.
Thousands of content members from around the world.
Lesson plans in both British and American English.
Premium Home Page | Free Samples | Why Join | FAQ | Sign Up!
Take The Tour
★ Special Coupon Discount★
$8 off Lifetime Membership. Enter coupon code 8LIFE at registration.
(valid for this month)
Proverbs Which Contradict
Another good discussion prompter. Proverbs are put in pairs which seem to contradict each other.