Elementary - surveys and pairwork resources
Survey and Pairwork pages:
You are on Page One
Page Two

---
Back to the Elementary main page
What's In Your Fridge?
Student to student survey to practice 'there is' and 'there are' and also quantifiers like 'a lot', 'much' and 'a few'.
Tour Schedule for Rolling Stones
To practice 'was' and 'were'.
Next Week for the President
A diary of the US President's week is used to practice the different future forms in English.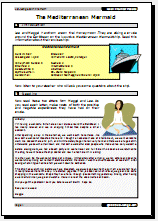 Come and join esl-lounge Premium.
High quality PDF lesson plans.
Full teacher notes - zero preparation time.
mp3 listening materials.
Full color flashcards for grammar/vocabulary teaching.
Thousands of content members from around the world.
Lesson plans in both British and American English.
Premium Home Page | Free Samples | Why Join | FAQ | Sign Up!
Take The Tour
★ Special Coupon Discount★
$8 off Lifetime Membership. Enter coupon code 8LIFE at registration.
(valid for this month)
Neil's Plans
Diary page that can be used to practice future forms such as present continuous and 'going to'.
Information on Three Hotels
This information can be used to practice comparatives and superlatives or as the information input in a role play.
'How Often?' survey
This uses vocabulary that would be maybe a little too difficult for Level 1A.
What are you doing?
Survey to ask about students' plans and arrangements for the future.
'Have you got/Do you have?'
This is a 'have got' survey that I use with younger classes.
Find Someone Who: Past
An all-class mingle activity in which student circulate around the class trying to find others who did the things written on their sheet.
English Learning Lounge - iOS and Android Apps

Our app for both Android and iOS to help your students improve their English!

Full Grammar explanations.
Exercises to help with Grammar, Vocabulary, Listening, Reading and Pronunciation.
Authentic English listening and reading materials.
Fun, imaginative quizzes and games.
Full statistics. Track your progress as your English improves!
Download today for FREE!
Find Someone Who: General 1B Review
A "find someone who" activity which serves as a general review of the language covered at this Elementary level.
Survey and Pairwork pages:
You are on Page One
Page Two

---
Back to the Elementary main page