Advanced - editing
General
Headlines
A collection of odd/amusing headlines that can be used to prompt discussion, practice editing skills or as a follow up to topic work on newspapers/journalism or the particular structure of English only found in newspaper headlines.
Real Newspaper Errors
Students look at these authentic newspaper errors and find the mistakes. Good for the editing skills necessary in some of the public exams (CAE for example) at this level.
Grammar Auction
Answer Sheet
Students in pairs or groups 'bid' to buy what they think are correct sentences. One for the teachers to 'ham up'.
Spelling
The Dangling Modifier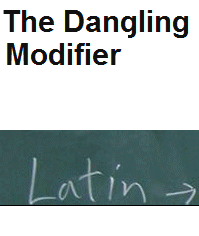 Our new blog, for teachers and learners of English.
Articles on ESL teaching, lesson preparation, teaching theory and much more. Come and visit us today, take part, feel free to leave a comment - registration not required.
Missing Word
Extra Word