Listening - Intermediate
Page 1
You've Changed!
Two friends meet after not seeing each other for a long time.
Exercise Number: 3L1
Click for Transcript
Sports Roundup
Sports news on the radio.
Exercise Number: 3L2
Click for Transcript
The Learning Lounge - NEW iOS App

Our Free App to help you improve your English!

Full Grammar explanations.
Exercises to help with Grammar, Vocabulary, Listening, Reading and Pronunciation.
Authentic English listening and reading materials.
Fun, imaginative quizzes and games.
Full statistics. Track your progress as your English improves!
Download today for FREE!

More Information

|

Download Now - Free!
Haybridge Hall
Listen to this guide speaking about the historical Haybridge Hall.
Exercise Number: 3L3
Click for Transcript
Online Trouble
A customer has problems making a purchase on a website.
Exercise Number: 3L4
Click for Transcript
Parent/Teacher Meeting
A mother speaks to a teacher about her son's progress and behavior.
Exercise Number: 3L5
Click for Transcript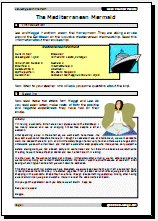 Are you also an English teacher?
High quality PDF lesson plans.
Full teacher notes - zero preparation time.
mp3 listening materials.
Full color flashcards for grammar/vocabulary teaching.
Thousands of content members from around the world.
Lesson plans in both British and American English.
Premium Home Page | Free Samples | Why Join | FAQ | Sign Up!

Take The Tour
★Summer Coupon Discount★
$8 off Lifetime Membership. Enter coupon code 8LIFE at registration.
(valid to October 1st)
The Answering Machine Complaint
A customer leaves a message of complaint on an answering machine.
Exercise Number: 3L6
Click for Transcript
Love Is In The Air
Carolina talks about the great love story in her life.
Exercise Number: 3L7
Click for Transcript
Love Is In The Air 2
Another listening quiz based on the same recording.
Exercise Number: 3L7 (2)
Click for Transcript
Here Is The News
Bulletin of world news on the radio.
Exercise Number: 3L8
Click for Transcript
The Room-Mates
Two people who live together have a conversation about some problems.
Exercise Number: 3L9
Click for Transcript
The Room-Mates 2
Another listening quiz based on the same recording.
Exercise Number: 3L9 (2)
Click for Transcript
Democracy In Action
A politician speaks to a possible voter on the doorstep.
Exercise Number: 3L10
Click for Transcript
Eavesdropping
What are these people talking about? It's not very clear, is it?
Exercise Number: 3L11
Click for Transcript
The Island Of Vanuatu
Listen to the speech about the Pacific island of Vanuatu.
Exercise Number: 3L12
Click for Transcript
The Island Of Vanuatu 2
Another listening quiz based on the same recording.
Exercise Number: 3L12 (2)
Click for Transcript