Elementary - vocabulary
Picture Vocabulary Worksheets
Gap Fill
Students write the correct word(s) in the space provided, using a photo as a prompt.
Picture Vocabulary Gap Fill Worksheet 1
Picture Vocabulary Gap Fill Worksheet 2
Picture Vocabulary Gap Fill Worksheet 3
---
Cat And Dog Semantic Grid
Students build a semantic vocabulary grid to classify members of the cat/dog family and to learn how a semantic grid is made, useful for more advanced vocabulary later in their learning.
Special Days Wordsearches.
This section contains wordsearches that can be used for the vocabulary of special days such as Halloween, Thanksgiving and Christmas.
Halloween
Ghosts and goblins.
Valentine's Day
Hearts and flowers.
Bonfire Night
Guy Fawkes and fireworks.
Thanksgiving
Turkey and pilgrims.
Christmas
Reindeer and snow.
Earth Day - The Environment
Acid rain and pollution.
Easter
Lambs and Eggs.
Verbs and Parts of the Body
Students categorise verbs depending on what part of the body we use to 'do' them.
Past Simple Multiple Choice Worksheet
Students choose the best past simple verb to complete each sentence.
Animal Wordsearch
Students have to find the names for animals. This page is in Word format.
Clothes Vocabulary
Students categorise clothes depending on what part of the body we wear them.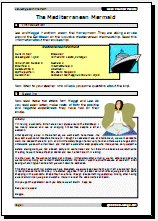 Come and join esl-lounge Premium.
High quality PDF lesson plans.
Full teacher notes - zero preparation time.
mp3 listening materials.
Full color flashcards for grammar/vocabulary teaching.
Thousands of content members from around the world.
Lesson plans in both British and American English.
Premium Home Page | Free Samples | Why Join | FAQ | Sign Up!
Take The Tour
★ Summer Coupon Discount★
$8 off Lifetime Membership. Enter coupon code 8LIFE at registration.
(valid to October 1st)
Internet Vocabulary
Find the 10 words related to browsing the internet.