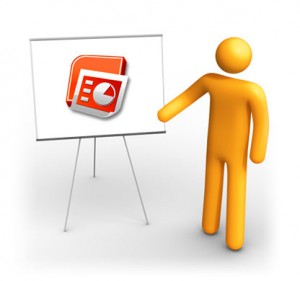 Introduction
PowerPoint is an incredibly popular piece of software, mainly because it comes with Microsoft packages. PowerPoint files are easy to create and can be e-mailed as attachments. They can be posted on or downloaded from websites. Not only can PowerPoint presentations be traded and exchanged, they can also be modified to fit any individual classroom setting. Although PowerPoint has been around for years, it's just begun to spread to schools and ELT classrooms as more and more classrooms and teachers have access to computers and the hardware to use PowerPoint. For these reasons, PowerPoint is becoming an increasingly popular medium in ELT.

Classroom Uses of PowerPoint
PowerPoint presentations can be used in many ways in ELT. For example, presentations can be used for presenting language structures, for practice and drilling, or for reviews.
Initial Presentation
PowerPoint can be used to teach new structures to students. Theoretically this sounds good; however, in practice there are problems. The teacher must anticipate areas of misunderstanding and difficulty. For this reason, the presentation must be clear. It should address anticipated areas of student difficulty in a chronological manner. Such a presentation is difficult to prepare, but it can be done. Once an initial teaching presentation is prepared, it can be saved and used repeatedly, and it can be shared with others.
Practice & Drilling
PowerPoint presentations lend themselves to practice and drilling. To do this it is necessary to have the type of material, which can be repeated many times. A presentation of irregular verbs is one example of something which can be repeated again and again. Other types of material can be repeated on a weekly or biweekly basis. Presentations using the correct preposition, or the correct form of an adjective, or verb tenses could be practiced and reviewed periodically.
Review
PowerPoint presentations are great for reviewing ideas which have already been taught. After the students have learned and practiced something, it is useful to see a presentation. Such presentations can stimulate visual learners in a way that traditional materials cannot. Not only do most learners find this interesting, but it is also a good checking that learners have internalized particular language points. Furthermore, PowerPoint presentations are a good, lighthearted way to review language before a test.
Creating PowerPoint Presentations
Anyone can create presentations if you have PowerPoint software. There are many good tutorials on how to create presentations. Some are listed at the end of this article.
Borrowing Presentations
There are many great websites where a teacher can 'borrow ' PowerPoint presentations. These can be found by putting something like 'English PowerPoint presentation' in a search engine. You might also try "ESL/ELT/EFL PowerPoint' and variations thereof. Again, some are listed at the end of the article.
There are problems with downloaded presentations:
If the presentation was created on a different platform (Mac or PC) from yours you may have some font problems with specialised symbols.
Another problem is macros. You can pick up viruses attached to a macro. Be careful and download only from trustworthy sites.
Many are specific to a particular school or situation. When adapting be careful to make sure you catch all the small details.
Conclusion
PowerPoint presentations are easy to create, borrow and use. They are a great and versatile asset to any ELT classroom. Good presentations will take time to produce or adapt, but they can be shared and used again and again. They can be used for any number of purposes, and in numerous situations. It is likely that more and more PowerPoint presentations are going to be used in English language teaching in the future.
PowerPoint Tutorials
http://www.actden.com/pp/
http://www.electricteacher.com/tutorial3.htm
http://www.bitbetter.com/powertips.htm
http://www.teachers-connect.net/cc/99-00/advpp.htm
PowerPoint Downloads
http://208.183.128.3/ce/ppt.htm
http://oswego.org/ocsd-web/teaching/resources/resources-x.cfm?Type=P
http://www.elko.k12.nv.us/nntc/ppp.htm