CPE Proficiency - Open Cloze
The second part of the Reading and Use of English paper in the Cambridge Proficiency Examination is open cloze, in which students must use only one word to fill each space in a short text. The required words are usually grammatical, such as pronouns, articles, relative pronouns, prepositions, auxiliary verbs and so on.
Open Cloze Worksheet 1 - Answer Sheet
Open Cloze Worksheet 2 - Answer Sheet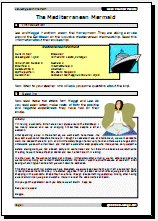 Come and join esl-lounge Premium.
High quality PDF lesson plans.
Full teacher notes - zero preparation time.
mp3 listening materials.
Full color flashcards for grammar/vocabulary teaching.
Thousands of content members from around the world.
Lesson plans in both British and American English.
Premium Home Page | Free Samples | Why Join | FAQ | Sign Up!
Take The Tour
★ Summer Coupon Discount★
$8 off Lifetime Membership. Enter coupon code 8LIFE at registration.
(valid to October 1st)
Open Cloze Worksheet 3 - Answer Sheet
Open Cloze Worksheet 4 - Answer Sheet
Open Cloze Worksheet 5 - Answer Sheet
Open Cloze Worksheet 6 - Answer Sheet
Open Cloze Worksheet 7 - Answer Sheet
Open Cloze Worksheet 8 - Answer Sheet
Open Cloze Worksheet 9 - Answer Sheet
Open Cloze Worksheet 10 - Answer Sheet