Intermediate - worksheets
Past Perfect
Past Perfect Worksheet
Answer Sheet
This worksheet concentrates on the chronology of events to help English learners understand the use of the past perfect in English.
Modal Verbs
Modals of Permission and Obligation
Law and Order. Students complete sentences using modals so that they are correct for their respective countries.
"Can" and "Be Able To" Worksheet
Answer Sheet
Fill in the spaces in this exercise to help students differentiate between "can", "could" and "be able to".
"Can" and "Be Able To" Re-Ordering
Answer Sheet
Students re-order words to make correct sentences with 'can' and 'be able to'.
Could You - Could I
Answer Sheet
Worksheet which gives practice of these expressions to make polite requests.
"Must" and "Have To" Differences
Answer Sheet
The difference between "must" and "have to" used in affirmative sentences is a fine one indeed. If you really want to get involved with such delicate differences, this worksheet will help you help your students.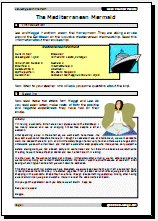 Come and join esl-lounge Premium.
High quality PDF lesson plans.
Full teacher notes - zero preparation time.
mp3 listening materials.
Full color flashcards for grammar/vocabulary teaching.
Thousands of content members from around the world.
Lesson plans in both British and American English.
Premium Home Page | Free Samples | Why Join | FAQ | Sign Up!
Take The Tour
★ Summer Coupon Discount★
$8 off Lifetime Membership. Enter coupon code 8LIFE at registration.
(valid to October 1st)
Modal Signs
Answer Sheet
Students have to choose the correct modal verb to complete a sentence describing a sign..
Modals of Deduction Worksheet
Answer Sheet
Focus here is on present modals of deduction like "he must be" and "he can't be".
Verb Patterns
Work, To Work, Working
Answer Sheet
Focus in this worksheet is on the use of the infinitive or gerund in different verb patterns.
I Love Shopping
Answer Sheet
Gap fill that focuses student attention on verb patterns.
Verb Pattern Error Correction Worksheet
Answer Sheet
Students read through sentences using various verb patterns and find the errors.
Infinitive or Gerund Error Correction Worksheet
Answer Sheet
Error correction worksheet practicing use of infinitive or gerund verb forms.
Used To
Used To or Past Simple Worksheet
Answer Sheet
Students use either 'used to' or the Past Simple to complete each sentence.
"Used To" or "Would"?
Answer Sheet
This worksheet tackles a confusing difference in English when talking about past habits and routines - the difference between "used to" and "would".
What We Used To Do.
Answer Sheet
What did we used to do before the television was invented? Students put the activities together and discuss further possibilities.
Used To Re-Ordering
Answer Sheet
Students re-order words to make correct sentences with "used to".
Prepositions
Preposition Gap Fill
Answer Sheet
A whole array of prepositional phrases in this worksheet: good at, instead of, rather than, as much as, etc.