Beginners - vocabulary
Picture Vocabulary Worksheets
Multiple Choice
Students choose the correct word out of four choices, using a photo as a prompt.
Picture Vocabulary Multiple Choice Worksheet 1
Gap Fill
Students write the correct word(s) in the space provided, using a photo as a prompt.
Picture Vocabulary Gap Fill Worksheet 1
Picture Vocabulary Gap Fill Worksheet 2
Picture Vocabulary Gap Fill Worksheet 3
Picture Vocabulary Gap Fill Worksheet 4
Picture Vocabulary Gap Fill Worksheet 5
---
Where do you buy dog food?
To practice shop/store name vocabulary. Useful as a pre-role play activity for 'shopping'.
What job?
To practice both occupation vocabulary and also verbs associated with work such as 'sell', 'fly' and 'teach'.
Routine Verb Wordsearch
Students look for different routine verbs such as 'get up' and 'have breakfast' in a sea of jumbled letters. Improving and increasing student vocabulary means having them come across new words in many ways: in games, in listenings, while reading and so on. This page is in Word format.
Numbers, Letters and Words Grid
A grid with number and letter axes and many level one vocabulary items written in the centre. I use as a whole class game (e.g. 'where is red?) to practice all of the vocabulary as well as the alphabet and numbers. This page is in Word format.
Verbs and Rooms Vocabulary
Simple vocabulary matching activity in which students put verbs together with their associated room in the house. Clearly there will be some leeway in the answers from different students and this can create healthy conversation in the feedback.
Jobs Sorting Worksheet
Students put each job into the correct column depending on whether it's an indoors or an outdoors job.
The Dangling Modifier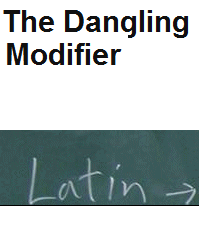 Our new blog, for teachers and learners of English.
Articles on ESL teaching, lesson preparation, teaching theory and much more. Come and visit us today, take part, feel free to leave a comment - registration not required.
Present Simple Routine Vocabulary
Students create sentences to describe their daily routines. Sentence structure and vocabulary practice.
Irregular Plurals
Students have to put the plural form of some regular and irregular plural nouns.
Parts of the Body: Categorization Worksheet
Where are the different parts of the body? This vocabulary worksheet will help student with words parts of the body in English.
Telling The Time Multiple Choice
Answer Sheet
Which digital time is the same as the spoken time?